TICKETS AND PARKING INFORMATION
AT&T Red River Showdown
October 2017
Cotton Bowl • Dallas, Texas
Ticket price: $135
Priority ticket limits are based on your total annual fund gift and seat location is determined by your Loyalty Points rank as of June 1, 2017. There is no limit to the total number of Texas-OU tickets you can order.
Be sure to add on your AT&T Red River Showdown tickets!
Through an online, virtual venue, you can move, upgrade or add seat locations and select available parking beginning in May 2017. Online appointment times are allocated based on Loyalty Points totals as of March 3, 2017.
Make an immediate difference in the lives of Texas student-athletes by purchasing tickets and donating to the Longhorn Foundation. Members earn Loyalty Points for seat donations and philanthropic gifts.
View the field from your seats in Darrell K Royal-Texas Memorial Stadium.
Renew by Feb. 2 to receive the third commemorative coin in a series of five coins!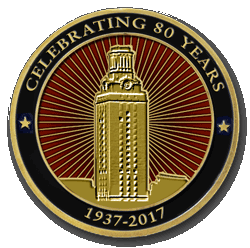 Spread out the cost of your season tickets and Longhorn Foundation donations over four equal installments when you renew online.
First payment: Time of renewal
Second payment: March 3, 2017
Third payment: April 3, 2017
Fourth payment: May 3, 2017
Away game tickets will be available to purchase in late spring of 2017.





ENHANCE YOUR GAMEDAY EXPERIENCE
Sit in comfort at the game and protect your space! Reserved season seatbacks are available for purchase when you renew your 2017 season tickets.
$50 per seat if ordered by June 30, 2017
$55 per seat if ordered between July 1-31, 2017
$60 per seat if ordered after July 31, 2017
$10 per seat if renting on a single-game basis
Add this option when renewing/purchasing your season tickets online.
Tailgating options on the LBJ Lawn are available for 10 to 1,000 or more guests and include tents, tables and chairs.
Each reservation includes at least one parking pass in an adjacent lot and the option to add full-service catering from local restaurants.
Some packages include ice-filled coolers and full media consisting of power, satellite service and television. Spots fill up quickly so reserve your tailgate spot today.
Visit TailgateGuys.com or call 512-300-0382 to reserve your spot today.
Entrance to the Fan Fest is included with your ticket. This pregame party includes live music, local fare, interactive games and big screen TVs.
Located inside the Red McCombs Red Zone at Darrell K Royal-Texas Memorial Stadium, the Fan Fest opens three hours before kickoff at every home game.